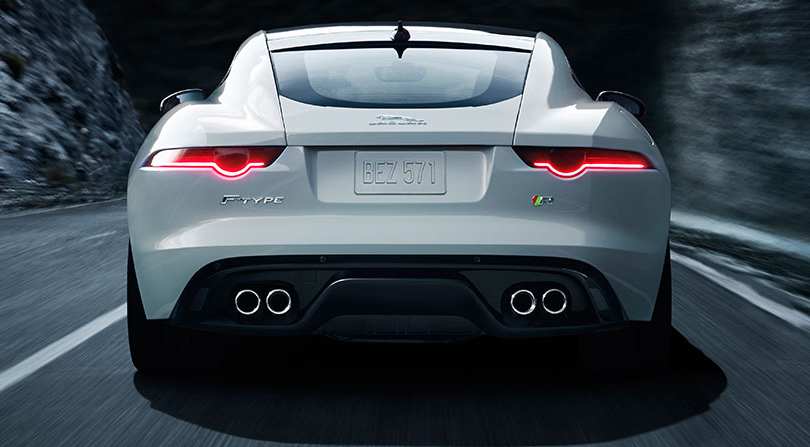 You pull the cap off the hypodermic needle, insert it vertically into the bottle, retract about 0.15 milligrams of epinephrine, check for air bubbles, pull up your sleeve, and send the famous "fight-or-flight" chemical more commonly known as adrenaline right to your heart. This is the closest experience we can think of to describe what it's like to floor it in the Jaguar F-Type R Coupe. This is Jaguar's most potent form of its new sports car, the possessor of its largest V8 engine with 502 table-turning pound-feet of torque that kick aside things like air and gravity as you flood over the pavement like a thunderstorm on an open prairie.
The F-Type Coupe is the culmination of a design that started in 2011 as the C-X16 Concept. Knowing that a catchier name than that would be required, the automaker's engineers tinkered away until unveiling the F-Type Convertible in April of 2013. The Coupe was shown later in November, and with commercials like this one with starring Tom Hiddleston.
Not that the convertible version of the F-Type was by any means a slouch. As we wrote in January, "This car's sound, which was already at 11, is basically taken to 13 when you switch on the active sport exhaust. Now the din is a frenzy, an almost feverish chorus that sounds with every command to speed up and racks its claws against the bars when you slow, all spitting and crackling like a jungle dweller in confines.
"This is a voracious roadster with claws out that absolutely tears forward with predatory instinct. 'Fast' is not enough of a word to describe it—it's the single-minded focus of an animal incapable of distraction. The only thing it wants to do is produce mountains of torque and go forward. NOW."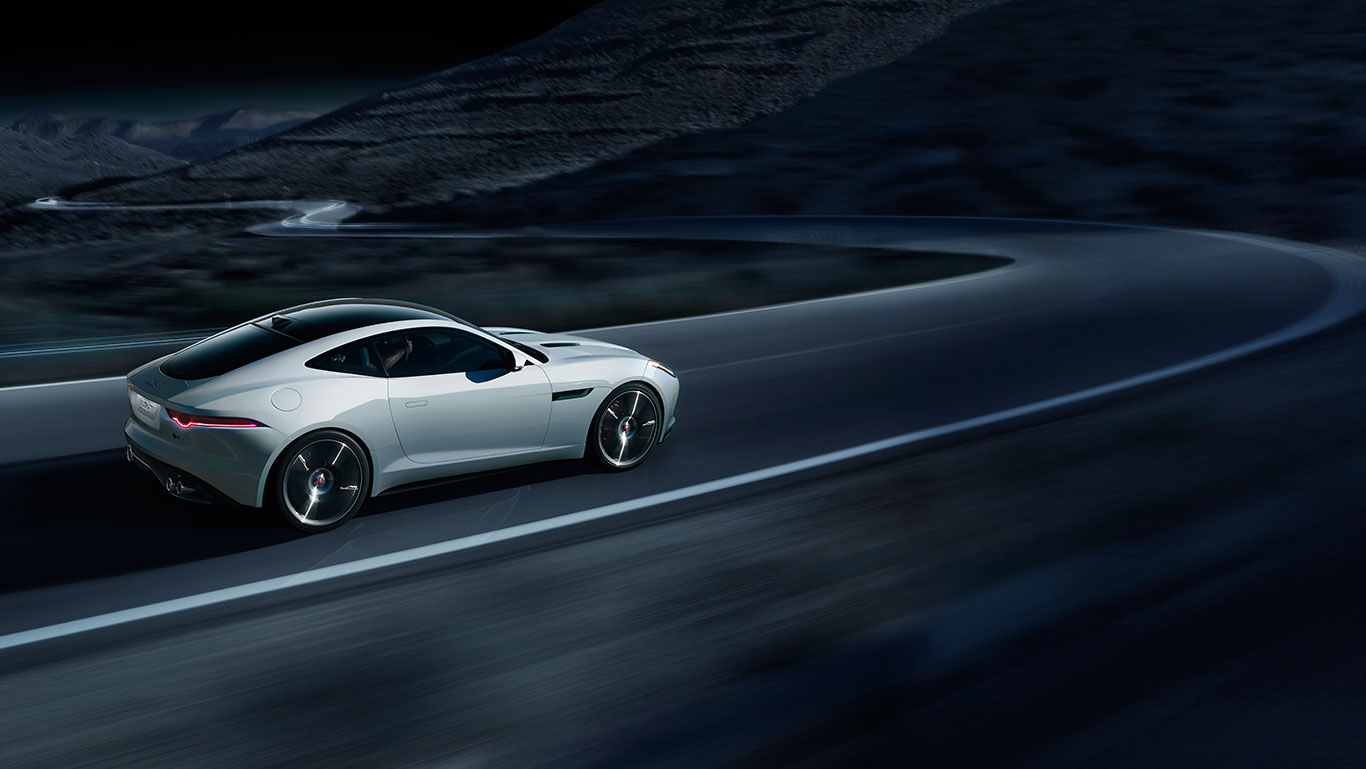 Jaguar Land Rover Cary was lucky to be among the first to have the coupe version in our midst. When we cut the ribbon on our brand-new facility in April, we had one of four F-Type Coupes in the country. We have quite a few more than that now, and to get people psyched for our launch party on June 12 we decided to take the R Coupe out on a test drive to see how much from the convertible was preserved, and what was added.
To do this, we asked one of our best to show off the car as if we were a customer. Ruth Jones is a sales consultant with a penchant for Instagram, people, and two of the finest automotive brands in history. Ruth had already scared us half to death by rocking the LR4 while it practically tilted on its ear, which after extensive therapy we had to admit was a fine way to demonstrate Land Rover's anti-roll construction. As long as we were going to play with a new Jaguar that Motor Trend called "an autopomorphic soccer hooligan," we figured we might as well have Ruth show us the ropes.
For starters, there are three trim levels of the F-Type Coupe, with the usual bumping up of options and features. What we did not expect was the horsepower jump from the base model (340), and middle option (380), to the 550 of the highest level. That's nearly 200 extra horses—who does that? The highest level of the convertible tops out at 495, but the R Coupe we're driving today gets the supercharged V8 that lives in the XJR (that was another fun day). How does it sound? Take a listen for yourself:
This is what we hear as we buckle in and Ruth starts it up. She's excellent at pointing out the things we remember from the convertible, as well as a few we forgot: the dashboard has a center air channel that rises when you need it and retracts when you don't. The seats will not only move every which direction, they'll also hug your sides to anchor you during spirited driving and remind you that you should work on your lats more. Our Coupe has the massive panoramic roof that we remember from the Evoque which remains the largest sunroof we've ever seen in a car. For a coupe with a hard-top, this is probably the most sky you can possibly see.
So we're all buckled in and feeling good, happily rolling along and taking notes, when Ruth suggests that we switch out and log some driving time of our own. This wouldn't be an issue except that this is a very fast car, and we are not very fast drivers. This is a car with so little modesty, so little deference and humility that it's impossible to drive it like, say, a Geo Prism. We've watched YouTube videos on good driving techniques (brake before the curve, accelerate out of it), but can those lessons be applied when driving a rear-engined monster worth six figures? We were going to find out.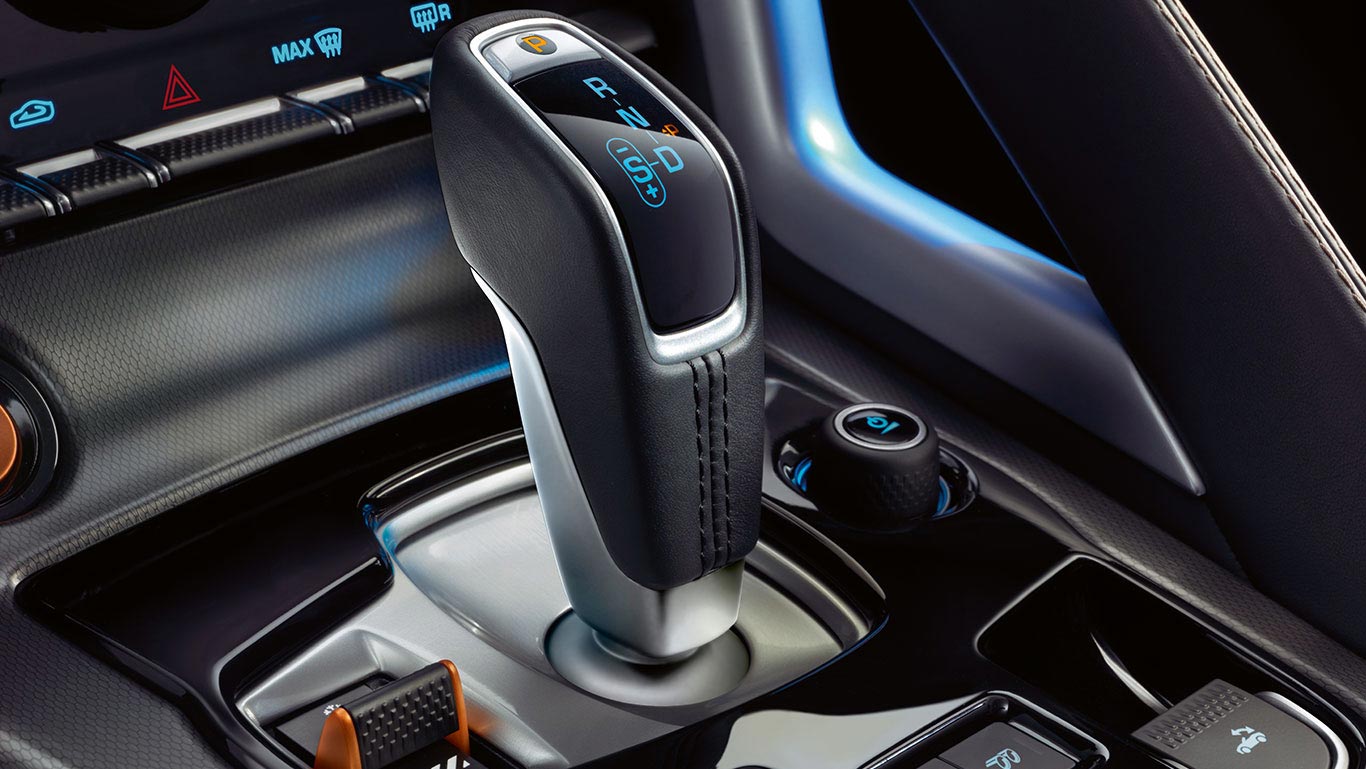 We come up to our first turn, a right onto Highway 64. The lane is clear, so we pal around good-naturedly with the accelerator, like when you kind of know how to give a massage but aren't terribly confident at it. We punch it and a second or two later we're considerably farther down the road than we expected. We have to admit: this is pretty awesome.
Normally on test drives, we do our best to explore the car's potential while also making the mental notes we'll need when we sit down to write. With a car like the F-Type R Coupe, balancing these two actions is hard. We remember seeing an SUV ahead on the on-ramp, and then something of a blur as the Coupe R basically detonated things all around us while Ruth clapped and laughed, and then we were on the highway, slicing out chunks of road and vaporizing the clouds above.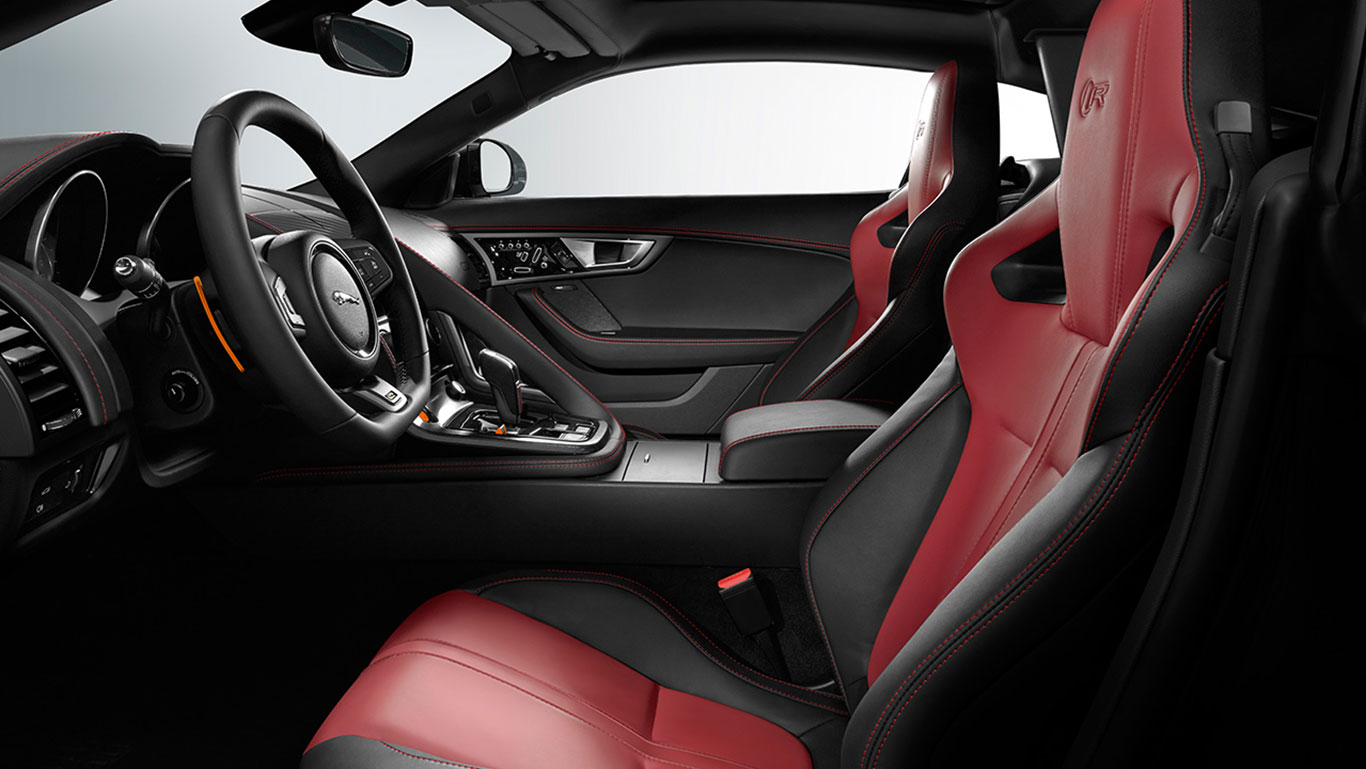 We remember coming off the highway onto some city's streets (Cary? Apex? Des Moines?) and ripping up asphalt by its roots, right down to where the clay gets compacted and rolled over, cracking trees open with our exhaust and rippling concrete curbs until they were curving in the opposite direction. We remember scraping giant bucketfuls of torque and lobbing them behind us like confetti, lacing the grass with red-hot streaks of tinsel until it lay like a patchwork quilt of broken rocks and chopped granite.
We remember slicing up chunks of gas vapor and then bashing them against one another until nothing remained but fumes and limo-length strips of burnt rubber.
That is, we obeyed the speed limit.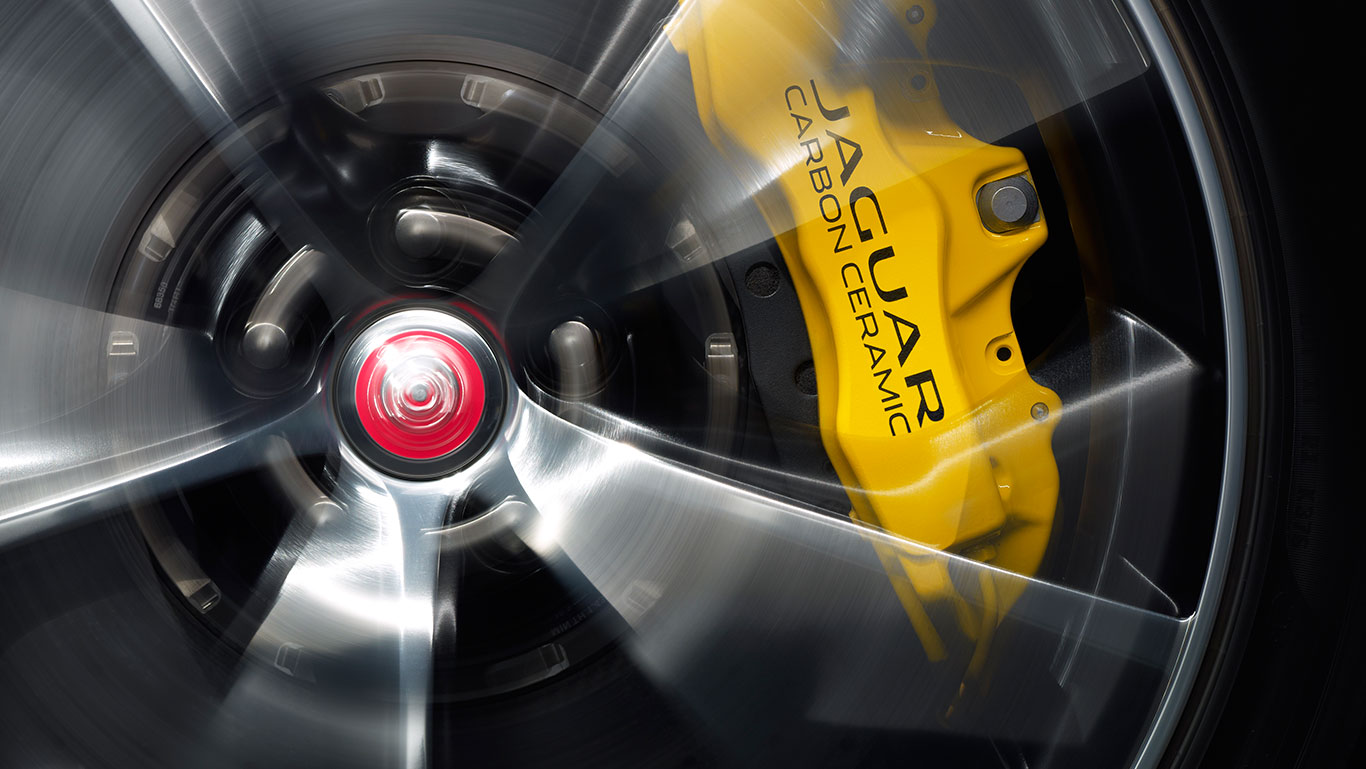 Ruth showed us how the F-Type maps your acceleration and deceleration linearly over time, and also how much gravitational force you experienced in the primary four directions. Some people have made a game out of trying to see who can get the strongest G-forces, so we noted our scores and resolved to look up how much people can withstand before blacking out.
Apparently the average person can handle about five Gs (some roller coasters pass this and cause people to pass out). Modern aircraft pilots can do about nine. Our scores were less than 1.0 in any direction.
Still, as we waved goodbye and wobbled to our car, we knew that it felt as if we had experienced 37 Gs, a phenomenon that, if real, would probably be enough to cause the earth to fold in on itself. The F-Type R is an incredibly virile car with the low-note burble and catatonic engine of a jet plane, not a car. Compared to this, most cars will come across as glorified bicycles for the simple fact that they're designed to make the engine as unnoticeable as possible. Consider the bard:
"Thundering, shaking, tying off one's stomach into a thousand knots: the best thing about speed is that it lifts the mind to peek over the mountain, and in one blur, to drop."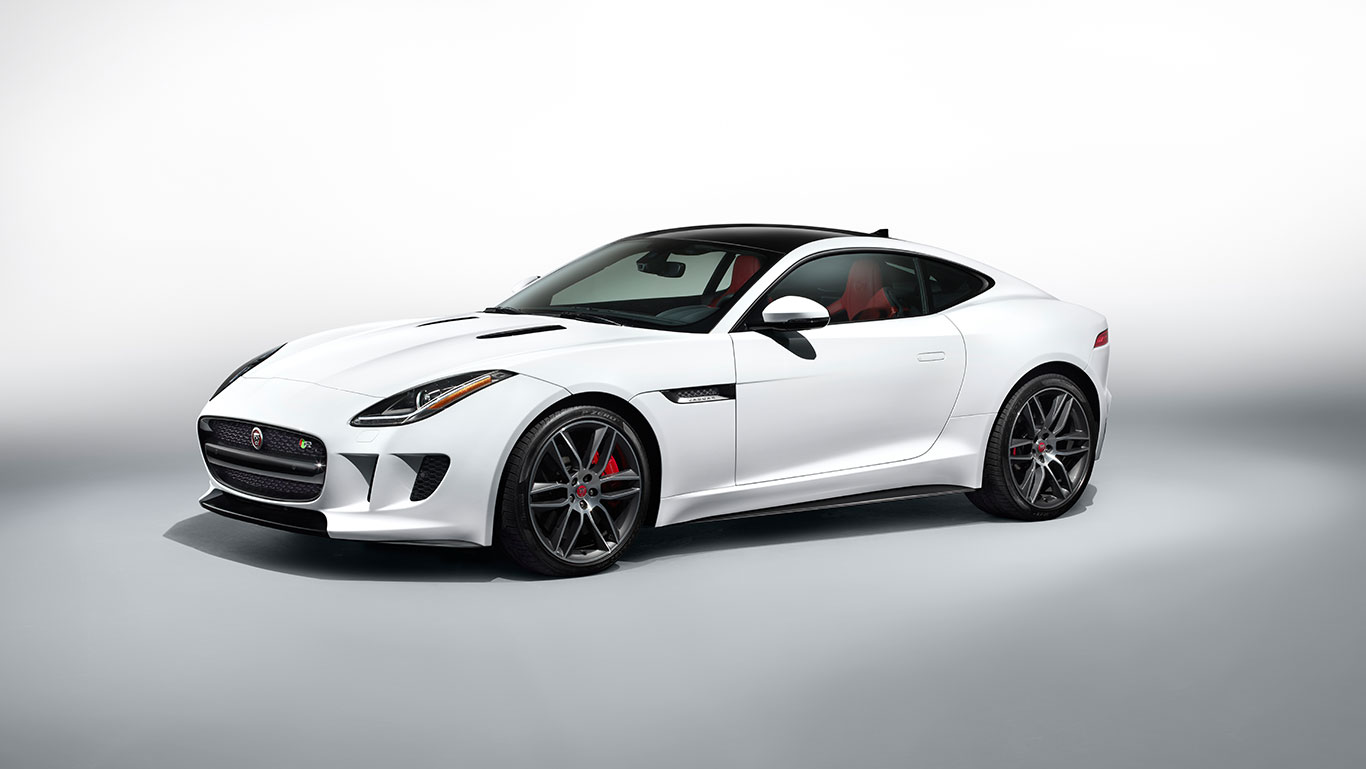 Ripping up Asphalt: The 2015 F-Type R Coupe Review
was last modified:
May 27th, 2015
by