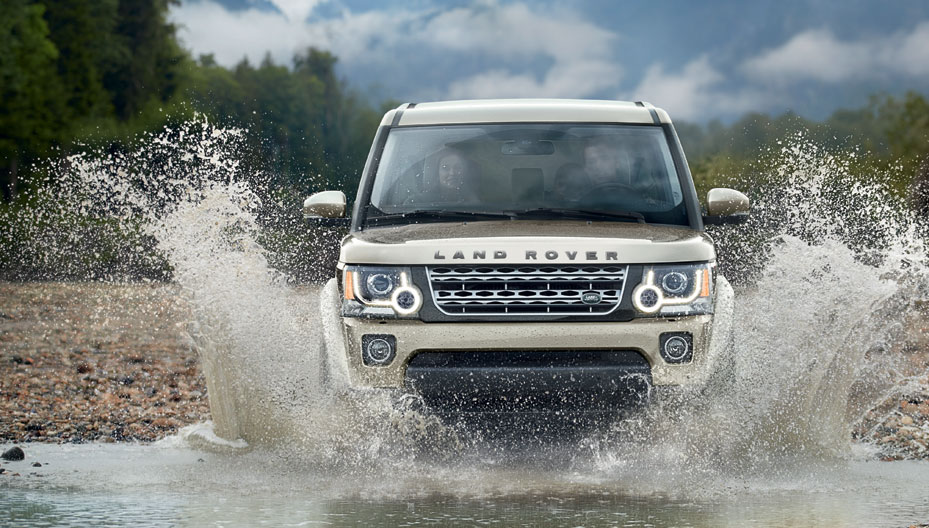 We've managed to get through another week and another round of test drives. This time, on a bitterly cold and rainy morning, we took a brief drive out of the city to Jaguar Land Rover Cary. Still celebrating its spacious new showroom, the dealership was humming with customers and enthusiasm for these two luxurious brands. It was hard not to feel excited about climbing behind the wheel of any great model in the expansive inventory sitting outside.
Our team decided that, due to the inclement weather, the Land Rover lineup would be most suitable for the test drives. Two out of three chosen were of the off-road brand, and we first experienced the LR4. Despite its massive appearance, all of us were surprised with the LR4's amazing agility, balance, and handling. We'll get to that in just a bit.
The Exterior
The 2014 Land Rover LR4 HSE houses a 3.0-liter V6 that produces 340 horsepower and 332 lbs-ft of torque, which you can feel at every depression of the accelerator. This is a large, strong vehicle that commands any terrain upon which it operates. We all were struck at the masculine sound that roared out at ignition.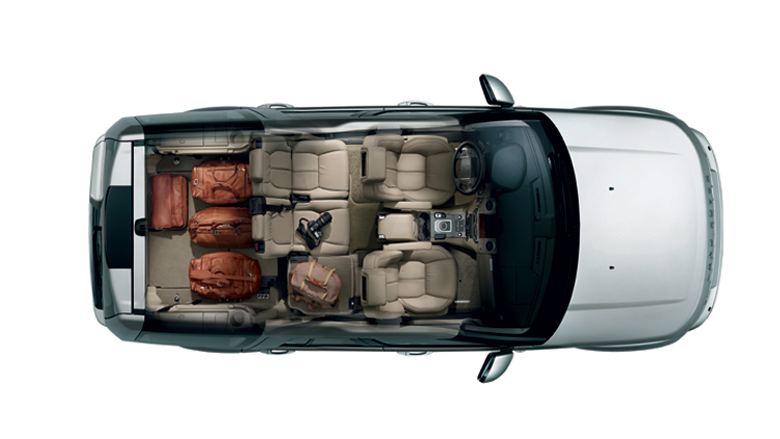 Our particular model, the only LR4 on the lot, had a beautiful contrast of eggshell white paint with black accents, handles, side mirrors, and tinted roof. Across the front of the hood, etched in black lettering, LAND ROVER stands out for all to see – and possibly envy. The robust frame and tall clearance add to the somewhat regal feel of the vehicle while also hinting at its off-road capabilities. That may be the advantage for a vehicle with British lineage: everything about it can be rudimentary yet sublime.
Atop 19-inch black rimmed wheels, this gorgeous machine beckons to be tested. Its wide glare underlined by two large headlights on each side of a seemingly smiling grille intimates to you that it wants to live up to its reputation. It wants to show you what it can do. And we will definitely oblige.
The Interior
On the inside of the vehicle, the black leather and wood grain inlays compliment the exterior and contribute to the overall feel of luxury. A spacious cabin can safely buckle a number of occupants, and in the front row, convenient arm rests can be lowered and set into place to maximize comfort. High-end leather heated seats and leather accents make the ride extremely comfortable, especially on such a cold and miserable day. Though it is not time to take our turn driving this machine, our brief grip of the steering wheel reveals that it, too, is heated – a wonderful surprise for chilled hands.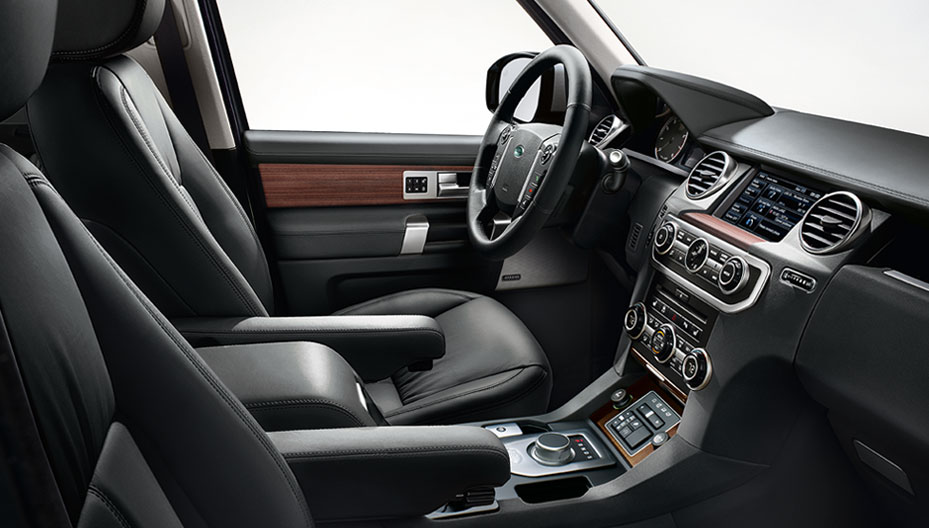 A brilliant LCD touchscreen display allows a driver to toggle through all of the infotainment options, including audio, video, phone, and navigation. With the car placed in reverse, a backup camera appears to assist drivers with parallel parking, pulling out of parking spaces, and any other activity that requires the car be put in reverse.
Several clusters display the many features of such a lavish vehicle. The standard audio cluster with arrows and "Mode" are found at the center. Below that are also somewhat typical features of cars, including parking alert, traction control, and climate control options. What sits below it is a purely Land Rover cluster.
It is in this bottom cluster, nestled next to the cigarette lighter, that you will find the terrain options. This means that a driver can set the vehicle to operate most efficiently for normal conditions, snow and ice, mud, sand, and rock. The 2014 Land Rover LR4 adjusts to meet traction, balance, and handling needed to effectively manage these nonstandard terrains. There are also buttons to modify the ground clearance of the vehicle, a clear benefit for off-road conditions.
While there are many other options and features, our objective here isn't to give you a technical document of specifications. You can learn all about these from some of the dealerships great brand ambassadors, like Ruth Jones.
The Ruth Jones Experience
As stated, our brand ambassador for this particular test drive was Ruth Jones. A relatively new addition to the Leith family, Ruth has established a solid reputation for understanding the type of person who fits the Land Rover lifestyle and placing him or her in the perfect vehicle. Part of that understanding is derived from her training, and the other part comes from the experience of driving the vehicle.
With the 2014 LR4 at her fingertips, Ruth decided to give us the grand tour by taking our team across the Jaguar Land Rover Cary test track. It is approximately thirty yards of obstacles that help illustrate all of this beast's capabilities. With logs, rocks, and inclines, this brief track provides an ideal environment. From start to finish, this was one experience of which we were all in awe.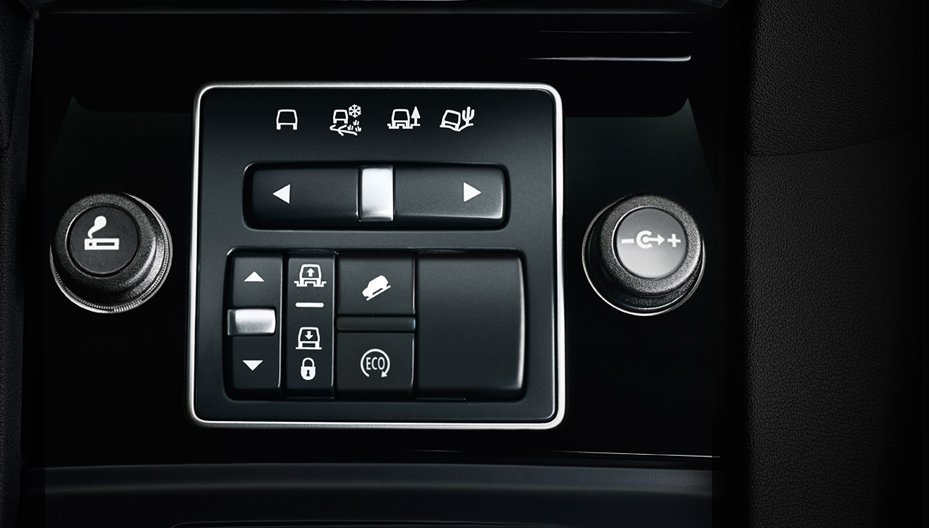 Ruth began by adjusting the mode of driving to accommodate rocks and increased the ground clearance. We began by driving across various uneven logs that illustrated the clearance and shocks of the vehicle. Afterward, our team approached the thirty-degree incline in which, as we crested it, all that could be seen was sky. Not the track, not the safety banisters – nothing except the grey skies above. As we reached the peak, it flattened out and allowed us a moment to regain our bearings.
Now it was time to descend, and Ruth informed us of the Downhill Assist available in the Land Rover. It allows drivers to take their foot off of the brake pedal, so the vehicle can safely determine the necessary speed at which to descend. We enjoyed a methodical and smooth ride down the small hill and readied for the next obstacle.
For the next several yards, uneven posts sticking out of the ground would test the LR4's suspension. Ruth wanted to show us how the vehicle (quite literally on the LCD display) adjusts the depth of the wheels as we drove over these posts. Despite the great disparity of height that should've created a totally disruptive drive, we actually sat back for a relatively flat ride – the posts rendered to what would feel like potholes in any other vehicle.
What was most impressive was the side-incline. It was a rocky setup that would set the vehicle up on its side in a white-knuckling experience. We are not sure to what degree this incline was set; however, when Ruth parked the LR4 on it, we could turn the left-side window and see sky or turn to our right-side window to stare at the earth. It was a most incredible feeling to be inside of a vehicle that appears so top-heavy and not tip over despite what seemed to be Jaguar Land Rover Cary's best attempts. We literally were almost resting on our side, and Ruth tempted the gods by shaking the vehicle a bit. Still, we sat as grounded as traditional cars do on a flat surface.
The track finishes in an almost anticlimactic manner. How do you top nearly placing a vehicle on its side, we ask you? Still, the overall experience was just superb. Uncanny, even.
Our Driving Experience
After an impressive start with Ruth at the helm, it was our turn to climb behind the wheel. We returned to the wonderfully heated steering wheel, set our mirrors, and turned the knob-dial gear shifter to "Drive." With a right foot placed solidly on the accelerator, it was time to find out what this LR4 was capable of on the road. Would it live up to our expectations of how we expected a Land Rover to perform?
Upon leaving the dealership, the 2014 Land Rover LR4 let out a subdued roar. We could hear the power, but it wasn't overwhelming; this was expected since the automaker takes such meticulous care to encapsulate the cabin with insulation designed to minimize noise. In no way was the lack of rumble and visceral growl indicative of a lack of power. Rather, it validated a commitment to creating an enjoyable drive. Nobody buys a Land Rover for its exhaust notes, after all.
As we accelerated down the road, kicking up still waters, the cabin remained tranquil. The accelerator has a particular resistance to it, possibly due to the girth of the vehicle. We wouldn't characterize the resistance as impeding, as it, in no way, felt like too much. If anything, it is a characteristic to the driving experience that may force us to be more judicious in speeding up, which would directly influence our fuel efficiency.
The ride is as smooth as a jazz note. Whether rounding corners or cresting hills, we felt flat, grounded, and secure. Braking took no need for acclimation, and it felt natural driving the LR4 as soon as it was placed in gear. Its steering wheel manifested the vehicle's robust nature through the tight, solid feel we experienced when turning. Just like the accelerator, this wasn't a difficult task – it just had a particularly sturdy feel that may be an exclusive Land Rover characteristic.
One would think that such a large vehicle would be plagued with blind spots. This vehicle's side-view mirrors, rearview mirror, and window design all afford driver's a great perspective of their surroundings. The LR4 is designed for flawless execution of spirited and adventurous driving, so it is far more than well-equipped for the standard roadway, including perfect vision of ambient conditions.
Driving a 2014 Land Rover LR4 evokes feelings of security, power, and prestige. The supreme comfort of sitting in its leather seats with perfectly set armrests and a cluster and wheel all within arm's reach creates a most enjoyable drive. Knowing the vehicle's capabilities off the road certainly instill a level of confidence for its capabilities on the road. And, naturally, realizing that this luxury and technology is offered to you by the name of Land Rover, you can't help but feel accomplished.
The Conclusion
We're sold.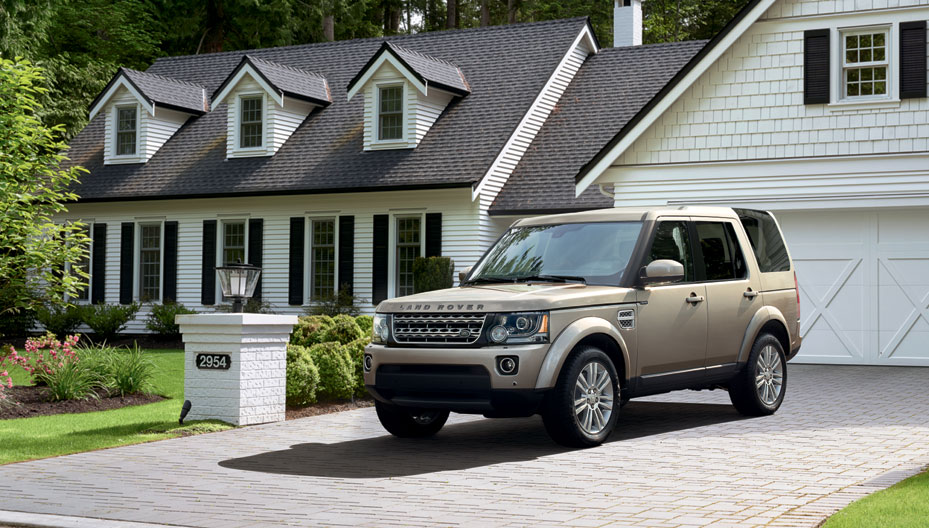 There have been cases when the vehicle did not satisfy the expectations set by press releases and online reviews. We bear the responsibility to explain how a car, truck, or SUV performs not from the perspective of a car expert or salesman, but as the average guy: the guy who needs a mechanic to troubleshoot major problems, or the guy who just knows how a car should feel. Well, the 2014 Land Rover LR4 HSE feels like a superior vehicle.
It felt secure on the incline. It felt sturdy on the other difficult terrains. It felt powerful behind the wheel. And it felt luxurious the entire time. Though we don't have a rating system for our test drives, this LR4 must receive an A or a plus or some sort of accolade that indicates just how impressive it is.
The vehicles at Jaguar Land Rover Cary are amazing, and the people might be the only thing to rival that. We hope you give them the opportunity to show you why a Land Rover is the premier off-road beast.
Test Drive Review: Behind the Wheel of the 2014 Land Rover LR4 HSE
was last modified:
April 30th, 2015
by