Editor's Note: This review was conducted in mid-March 2014.
It has been a while since we had our last drive at Jaguar Land Rover Cary. Our previous lesson in asphalt-based physics was with the F-Type Convertibles, both V6 S and V8 S. That was a brisk sunny day in January when we were carpe diem-ing enough to risk a top down sprint around town.
Today, however, is a gloomy late-winter epithet, a mid-30s mélange of cold rain, colder air and enough faux-gray darkness to sit up in a window, Edgar Allen Poe style, and write apocalyptic fictions until the true dark of nightfall arrives. In other words, a perfect day for driving a classic London-based saloon.
Our car today is the 2014 Jaguar XJR, and our guide Sales Consultant Ruben Trinidad. Ruben has fond memories of California living, as do we, and has spent time stationed with armored vehicle training units. As he described the exercises that depended on speed, intelligence and safety, we reflected on how his experiences make him specially qualified to evaluate and appreciate Jaguar cars. And oh what a car.
The XJR is Jaguar's top model of the XJ line, which is their full-size luxury sedan. Many people have appreciated XJs over the years, particularly the quad-headlamp version throughout the 80s, 90s and even 2000s. It wasn't until 2009 that Jaguar implemented a completely new body style that remains to this day. Within the XJ family there is the base XJ (340 hp), XJ AWD (also 340 hp), XJ Supercharged (470 hp) and the XJR with 550 horsepower. Not a bad day to be a writer. Who's laughing now, anti-journalism bullies?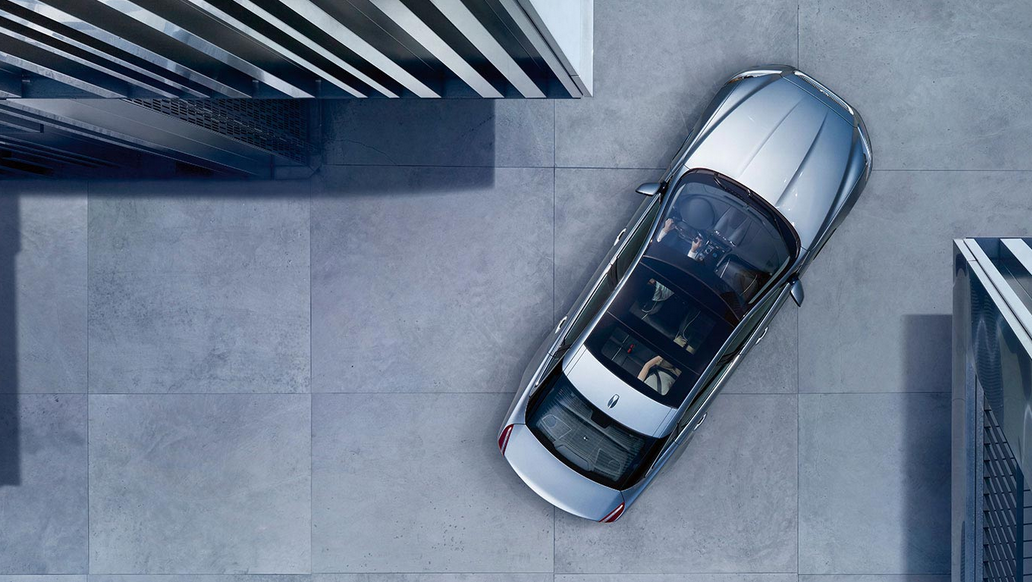 This saloon is what's referred to as a sleeper. It's all stateliness and dignified posturing, with the sleek blackened folds and minimalist aluminum accents that give it a feeling of anonymity. Were you to see it rolling down Glenwood Avenue, you would suspect that someone important was inside, but aside from the Jaguar emblem on the front grille, you likely wouldn't even be able to tell the brand. This is the motor transport for British Prime Minister David Cameron, after all, and what statesman doesn't need quiet and anonymity every now and then?
Beneath that utterly demure bonnet—Englishspeak for front hood—however, is a supercharged V8 engine. As you might recall, the F-Type's V8 S has 495 horsepower, which is enough to shake the Botox out of any man, woman or child in its grip. The XJR's 550 horses trumps that and then some, and did we mention that it was raining? We were reminded quickly enough as we slid behind the wheel, keyless entry making our ingress (and later egress) as natural as buttoning our jacket against the winter storm bluster.
Truth be told, we didn't even notice the dual sunroof available for the front or rear seats. Maybe it was the cold, or maybe it was the all-digital instrument panel, a rarity with the growing ubiquity of screens in the automotive world. It wasn't until a colleague asked us later that we realized, "Oh yes, there is technically something that measures speed, isn't there?"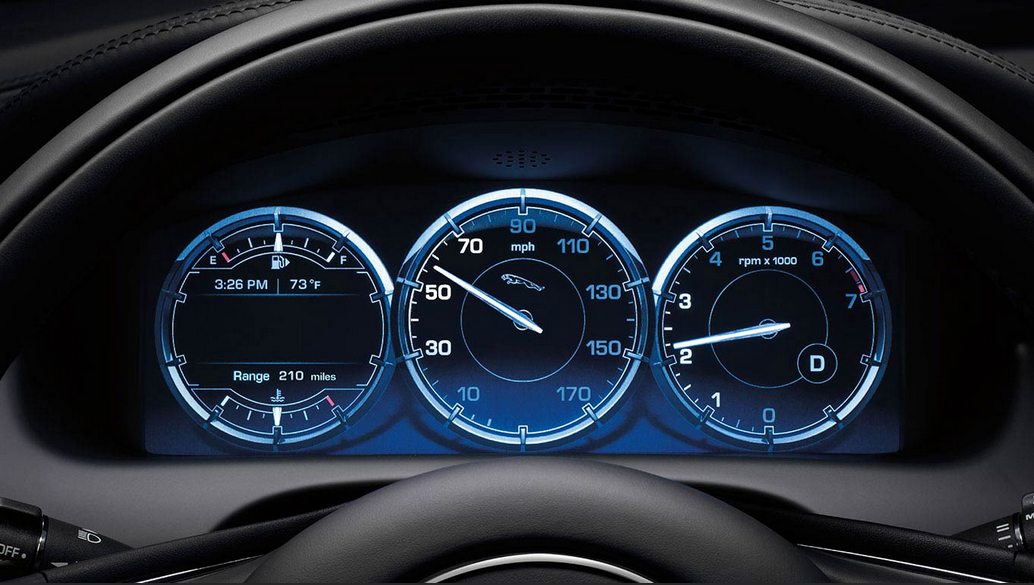 What we did notice, as we stepped to the stop sign out of Land Rover Cary, is that this is no Modest Mary. As we rev into the back roads away from Highway 1, our eardrums, fanatics that they are, remind us that we've heard this rumble before. It's part and parcel to the F-Type, and captures how Jaguar is producing a classic roadster sound and experience that is, for the most part, vanishing quickly among cars today. A supercharged V8 engine has an unmitigated wrath and heedless conniption-throwing nature that really doesn't want to listen to anything resembling logic, or sense, or even self-preservation.
It's an apoplectic warning that booms and grumbles and thrums and bangs, all from the slightest touch of the accelerator. Because of the slick roads, we didn't even approach making serious demands of the XJR's rear-wheel power center, and yet we still found the treads lighting up our pathway as if we were a rocket and someone behind us had lighted the match. Thank goodness for awe-inspiring brakes!
But we don't want you to be scared off. The power is there, and can certainly be augmented by Dynamic Driving Mode, which sharpens throttle and engine response. But it was also wonderfully tempered by the Active Differential Control and Adaptive Dynamics, two systems that keep the rear end from getting away from you, and the suspension from being either too soft or too rough, based on what the road is like and how spiritedly you are driving.
These two systems worked together quite nicely as we came out of a right turn from a full stop, and goosed the throttle to a degree that would have made perfect sense on dry roads, but probably prompted a bit more, "Now, why would you do that?" on wet surfaces. Ruben didn't say this, however, because he didn't have to.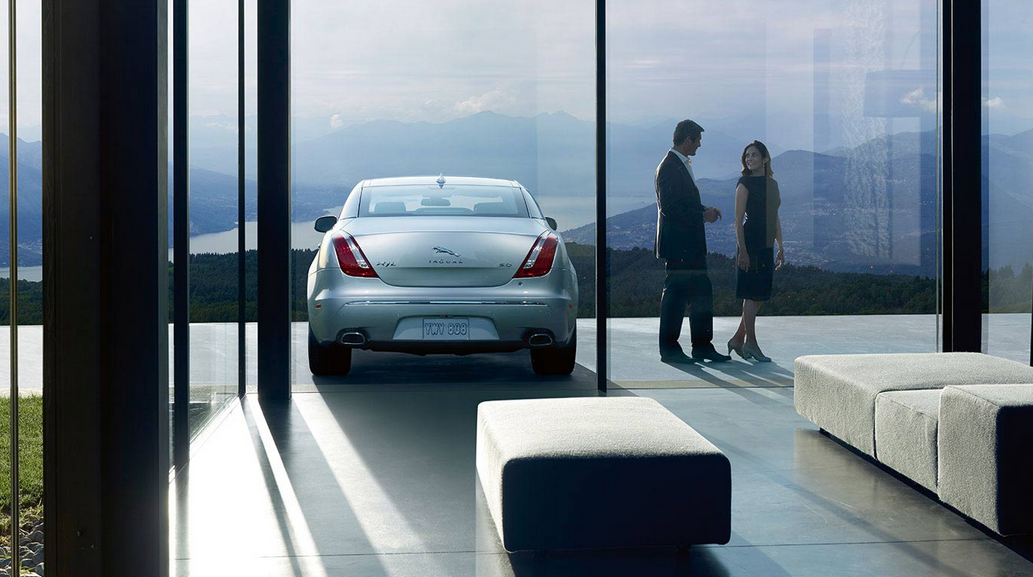 We heard the rear wheels grappling, like Romulus and Remus, as their towering supercharged lord—and by that we mean the engine, not ourselves, we won't flatter ourselves—issued commands to Go Forth! Immediately! There was only the briefest flicker of consternation before they reached amicable resolution. And that was that. No fishtailing shenanigans, no disturbance of stability—just a modicum of computer-regulated adjustment to rain, and we were back. Were it not for the sound, we wouldn't even have been able to tell that we had technically gone a bit too far.
This is reflected in a large degree, as well, by the handling. Though a large car, the grip had an unworldly precision that could make even the tamest of drivers feel atypically confident to put more intention into their turns. Every iota of looseness had been threshed from the steering column, the result of which is a highly tuned stratum of exactitude. In short, where you tell it to go, the XJR goes, and thanks to the acute scheme by its designers, it does so extremely well.
As we headed back to the dealership via Highway 1—taking a moment or two to firework past unsuspecting lane-dawdlers—we got a better feel for the interior of the XJR, as well. The facet of it that we appreciated the most was a difference in Jaguar's paradigm versus most automakers'.
With many automakers, the selling philosophy is technology. If you jam-pack as many doo-dads into a vehicle as you can, you just might have made a modern vehicle, and thereby have a chance at remaining competitive in this world.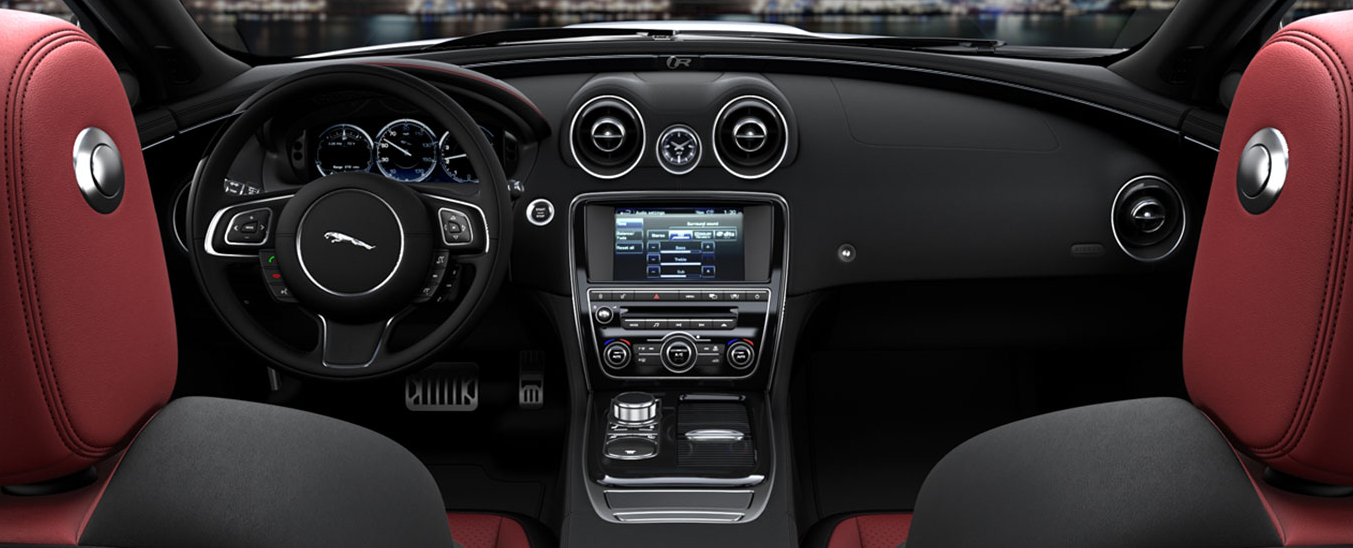 Jaguar, on the other hand, looks for technologies, yes, that could improve the driving experience of driver and passengers, but the larger goal—which is contained in that word "experience"—is driving. That means an inordinate focus on things like materials, fit, finish and decorum to never lose sight that this is a car, after all, not a giant smartphone to roll around inside of.
It starts with fabulous materials in the cabin: suede roof beams, soft grain leather seats and dash, aluminum trim pieces throughout, and lacquered hardwood in Piano Black. The experience of driving an XJR should be like settling into your room at the Waldorf Astoria, which is what all the noise-cancellation, jet aniline, and London tan piping is about.
When you start the vehicle, a short column raises itself from the center console. This is your shifter, a rotational selector of driving mode that harkens to another English automaker. When you finish driving and press the stop-engine button, the dial rotates itself back to parking mode and lowers itself away into the car. It's this small measure of planning that tells us we've made the right decision.
As we saw the crest of the dealership approaching, and thought of the chocolate raspberry truffle sure to be found somewhere in the rest of our afternoon, we realized that we'd forgotten to think about things like poor weather, or work concerns, or even the challenges of finding a table for dinner that evening—the Times' recent article about Raleigh has made that a bit more difficult. An all-too familiar baritone note tumbled across our eardrums, and we smiled.
This Is Why We CAN Have Nice Things: The 2014 XJR Test Drive Review
was last modified:
December 15th, 2014
by