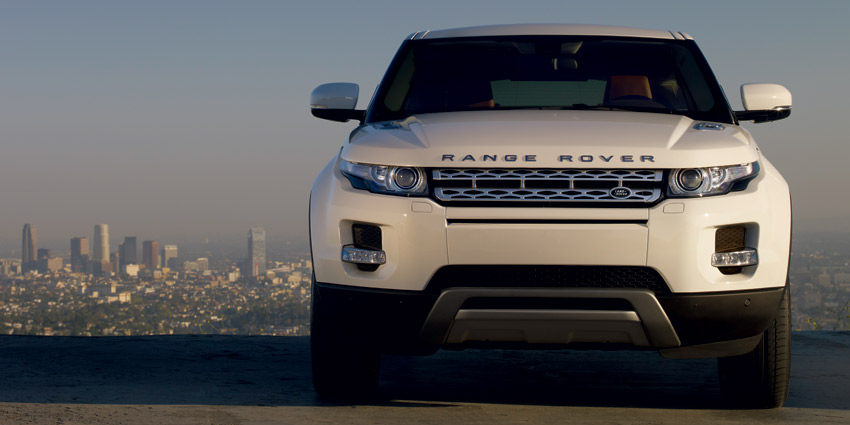 When you're sitting in the Adventure Centre at Leith Jaguar Land Rover Cary, you feel immersed in the rich heritage of the twin brands. By now you've heard how well put together the new showroom is, comfortably furnished and decked out with classy memorabilia. You'd be forgiven for thinking you had walked into a museum. We were watching videos of historic Land Rover models, and it dawned on us how much this brand cares for its traditions. If there's one thing to say about the Brits, they do love history.
Yet the model we were there to test-drive represents a departure from traditional Land Rovers. The 2014 Range Rover Evoque is the brand's only compact SUV. Based off of the LRX Concept from 2008, the Evoque first went into production in 2011 and has proven to be quite popular. It's more common to see the five-door version, but it comes as a three-door coupe, too. If you're wondering about its capabilities, then read on, but know that they put "Range Rover" in front for a reason.
Brad Manning was helping us that day. Brad has been a member of the Leith Family since 2002, and he's been with Land Rover as long as the Evoque, since 2011. He shook our hand and then led us out front to get started.
The Pledge
Brad had pulled an Evoque Prestige in Santorini Black for us. The Prestige trim level offers all of the same raw capabilities as lower trims plus a more refined interior. This car has a wide base with wheel wells that extend outward marginally from the rest of the body. There's a nice selection of eighteen-inch rims to choose from that really give the car's feet an athletic look. The beltline rises from the front windshield up to the rear, and from the generous ground clearance to the sloping roof that ends in a spoiler, the body style of Evoque communicates exactly what this car is. It's a sturdy vehicle that is just as adept at handling a rugged trail as it is a busy city.
Beneath its hood rests a 2.0-liter turbocharged four-cylinder engine, which bestows a sprightly 240 horsepower to the Evoque at 5500 revolutions per minute. It generates 250 foot-pounds of torque at just 1750 RPM. Paired with a nine-speed automatic transmission and paddle shifters, you'll get as much power driving an Evoque as you would from some cars with bigger engines, and you'll be using less fuel. Land Rover's turbo four produces almost 20% fewer carbon emissions than competitors.
Around back in the trunk you'll have about twenty cubic feet to work with when the second row is up, and more than fifty cubic feet with the back seats folded down. A nifty depression on one sidewall gives you enough room to stow some golf clubs even with the seat up, and a compartment underneath houses a spare tire. The backseats fold down almost flat in a sixty-forty split, though they're a bit heavy so you might have to really tug on them to make them come forward. When they're up your passengers will enjoy plenty of legroom, comparable to a midsize sedan.
The Turn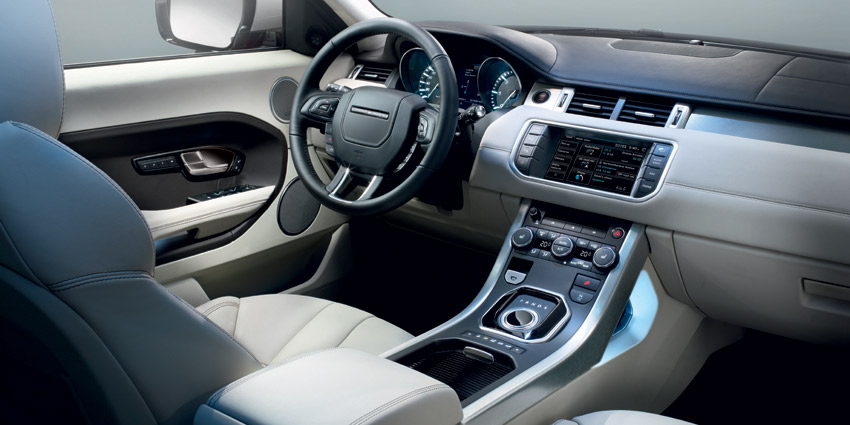 There was no passenger experience included in this test-drive. Brad let us jump straight in the driver's seat – initially we went for the right side door, but he told us the car wasn't that British. Once we had adjusted our mirrors and buckled up, we got under way.
Inside, the Evoque is plush leather and chrome accents. We let ourselves sink into the deep leather seats. Our test-drive included the complete Land Rover experience, meaning of course that it was a cold, rainy day just like the UK, so one of our first actions as captain of that ship was to turn on the heated seats and the heated steering wheel. We also had a full suite of climate controls at our disposal, along with automatic headlamps and rain-sensing windshield wipers. All in all, the Evoque is very well prepared for inclement weather.
The instrument panel has an info screen that will give you a variety of data if you so choose, accessible via thumb buttons on the steering wheel, but the real hub of the Evoque is its central infotainment touchscreen. This display is huge both in terms of size and in terms of the functionality it puts at your fingertips. You have access to climate control, navigation, and media, like in any other car, but in a Range Rover you also get full diagnostic data on fuel efficiency and which wheels power is being sent to. It's great watching power start in the rear wheels and then transition to the front as you get going down the road. When you corner, the differential sends more power to the outside wheels, and all of this is visually represented in real time on the screen.
The Evoque Prestige also comes equipped with cameras that give you most of a three-hundred sixty degree surround view. The display gives you a pick of five views, and you can zoom in on up to two at once. The side cameras, which are mounted under the mirrors, give you an excellent view of your front blind spots when you're trying to turn a tight corner or squeezing into a parking space. Bluetooth phone calling is a given at this point, and you can even change the color of the mood lighting to suit your personality.
The Prestige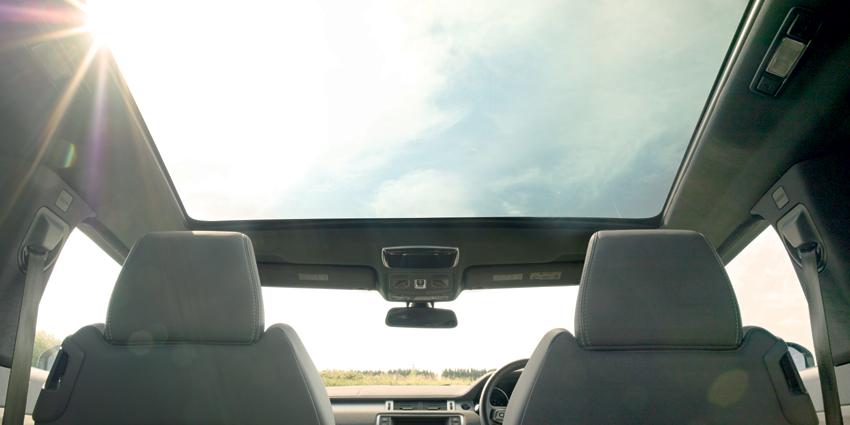 As for driving, the Evoque drives like a Range Rover, but with added pep and agility. We put our foot on the accelerator and jumped forward because we weren't expecting it to have as much getup as it did. It's easy to see why they market this car for the city because it has no trouble negotiating traffic.
We want to impress upon you how comfortable the drive is. The Evoque is impressively quiet thanks to triple sealed doors and noise damping insulation. It also has a panoramic sunroof that gives the interior a very open, breathable feeling when the shade is pulled back. During our test-drive, we left the screen open even with the grey weather – you know, if the sun doesn't shine, you get a tan from the English rain.
Even though its posture and gas mileage might have the city in mind, the Evoque still has all the Range Roving tools at its disposal, other than air suspension. Below the center display you can push through the different Terrain Response modes for traversal through rainy, snowy, icy, muddy, or sandy locales. There's also Land Rover's groundbreaking Hill Descent Control and Hill Start Assist, which turn high-grade slopes into low-stress experiences. Granted, Cary is topographically uneventful, but we felt very secure on some of the more windy roads. The car's Adaptive Dynamics and MagneRide also make minute adjustments to the suspension a thousand times a second, so we didn't notice any potholes.
The last thing to cover is the Eco Mode, which will incorporate smart stop technology into your driving experience. When you come to a stoplight, the engine will cut off as you wait for it to turn green. As soon as you take your foot off the brake, it turns back on, ready to go again. Eco Mode also limits throttle some, but remember that it's entirely optional. The Evoque is extraordinarily fuel efficient already.
That's Magic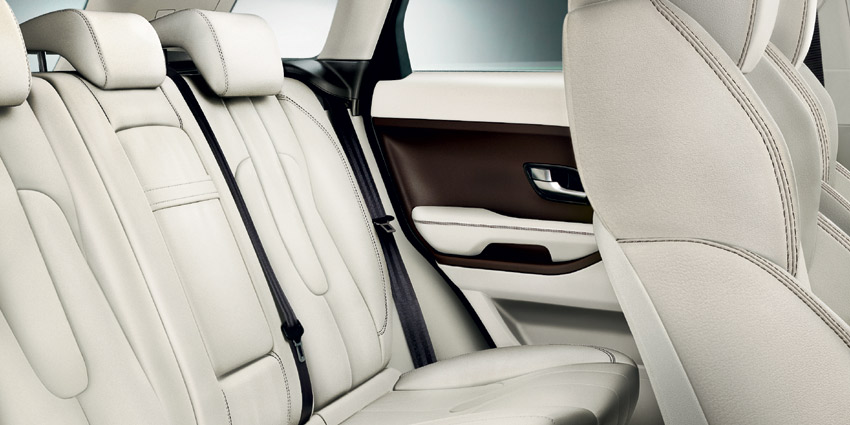 We asked Brad what it is about the Evoque that makes it so popular. He said it's because it's a Range Rover that's just as hardy, better suited to the city, and even more fuel efficient. It's all the luxury and presence of the larger vehicle distilled into a very durable, very effective crossover. If you had told us about such a car beforehand, we would have said you were trying to fool us. Now that we've driven the Evoque, we know it's the truth, and that's nothing short of magical.
Our warmest thanks go out to Brad Manning and the rest of the staff at Leith Jaguar Land Rover. If you want to have your own test-drive experience in the 2014 Range Rover Evoque, or any of the other prestigious vehicles in our inventory, then you should pay a visit to Leith Jaguar Land Rover in Cary. We look forward to seeing you.
Pretty, Pretty, Pretty Good Review: The 2014 Range Rover Evoque Prestige
was last modified:
May 13th, 2015
by