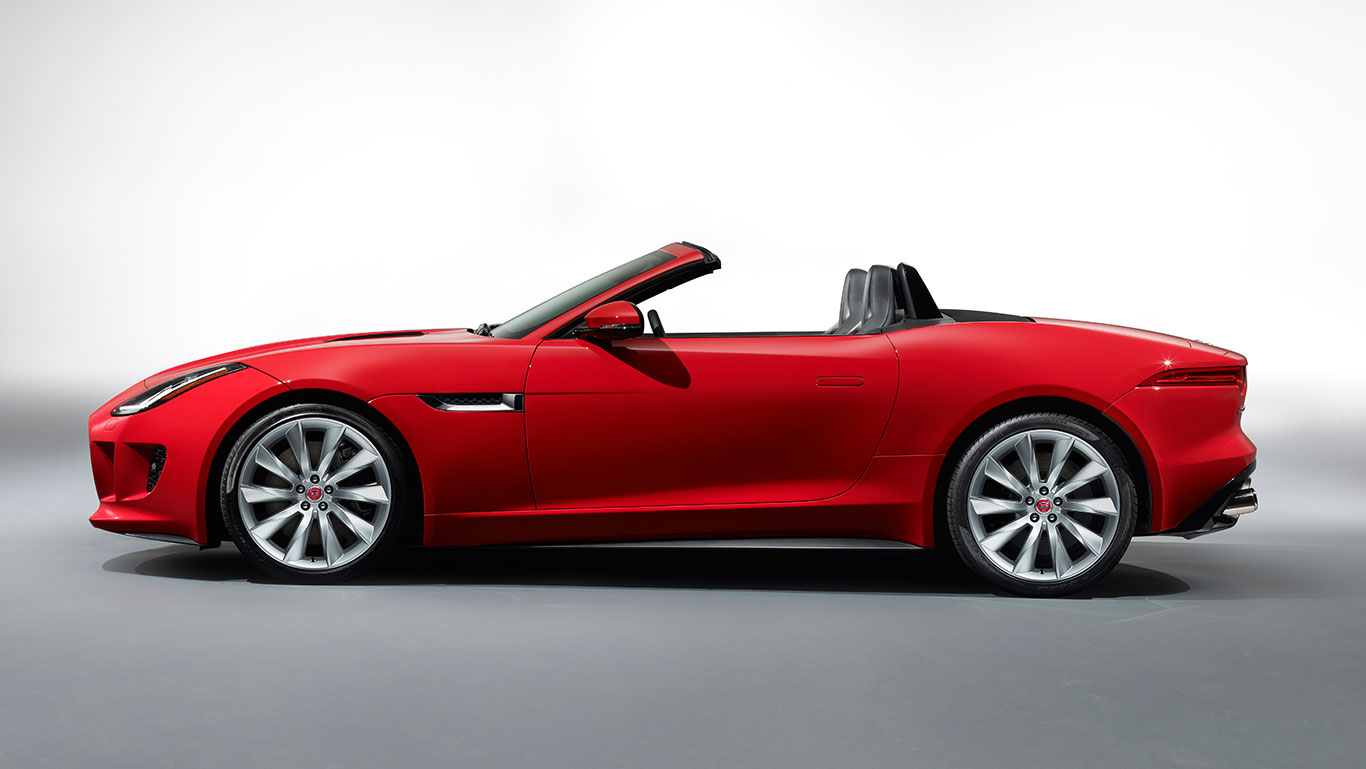 Before the F-Type Coupe arrives, we wanted to relate the experience of driving the F-Type convertible, so on a recent Friday morning we arranged a test drive right here at Jaguar Land Rover Cary with Sales Guide Brad Manning. Brad has been working with Leith for years at several dealerships and has experience with multiple brands. Having him educate us about the F-Type (while we drove, of course) was like enjoying a gourmet dinner with a world-famous chef describing the flavor.
Jaguar has four model types—XF, XJ, XK and F-Type—and the F-Type is the newest, having been launched in 2013. More than that, it's seen as Jaguar's return to having a proper sports car since the iconic E-Type. The E-Type, which was discontinued 40 years ago, is regarded as one of the most beautiful cars ever made.
Beautiful is a descriptor that could be applied to the F-Type, but we prefer the imagery of a high-end tailored suit from London's Savile Row shops—this car is all about looking and feeling fantastic the moment the doors click shut.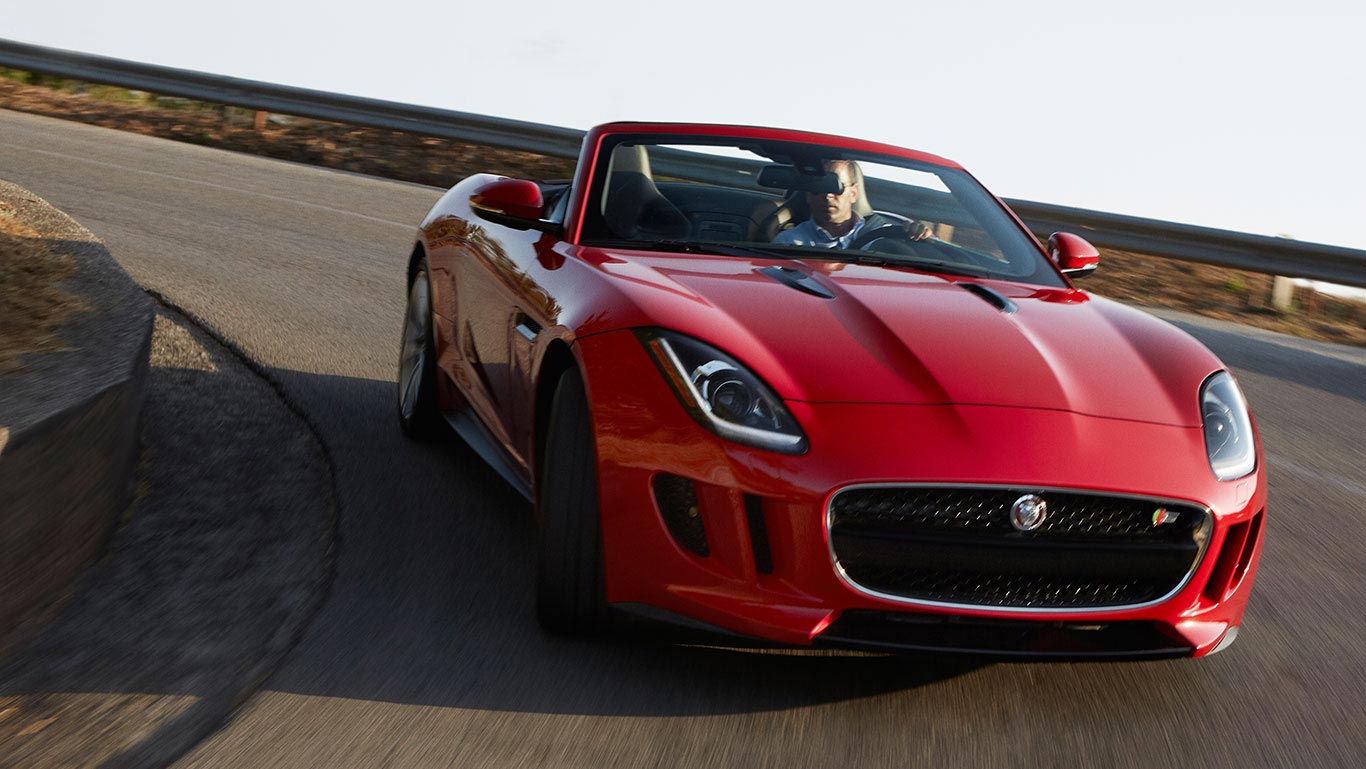 We started with the convertible F-Type V-8 supercharged, the loudest, fastest, and most powerful version of the F-Type. All of the reviews we had read going in said the V-8 S has so much snarling, gnashing, teeth-gritting power that it's almost difficult to know how to drive it in a world with things like traffic lights, speed limits, and, you know, other cars.
After an hour of driving it, we can attest that the V-8 S is ridiculously fun to drive. You press the start button and hear that 5.0-liter 495-horsepower supercharged engine detonate to life, and you realize that synonyms like "roar" don't do it justice. This is something like stepping inside a volcano—an enveloping sea of roiling lava seething and popping all around while you stand on a ledge in the middle and feel the tremendous force conveyed through the steaming heat.
The actual heat we felt was the sun's rays as the top stowed itself noiselessly in about 12 seconds, and we rolled toward a stop sign, anticipating that first leap from rest. We were jarred for a moment as the car shut off its cylinders—a fuel saving measure—and we realized how quiet a day it was. Foot off the brake, however, and the beast was back, and we pressed down on the accelerator.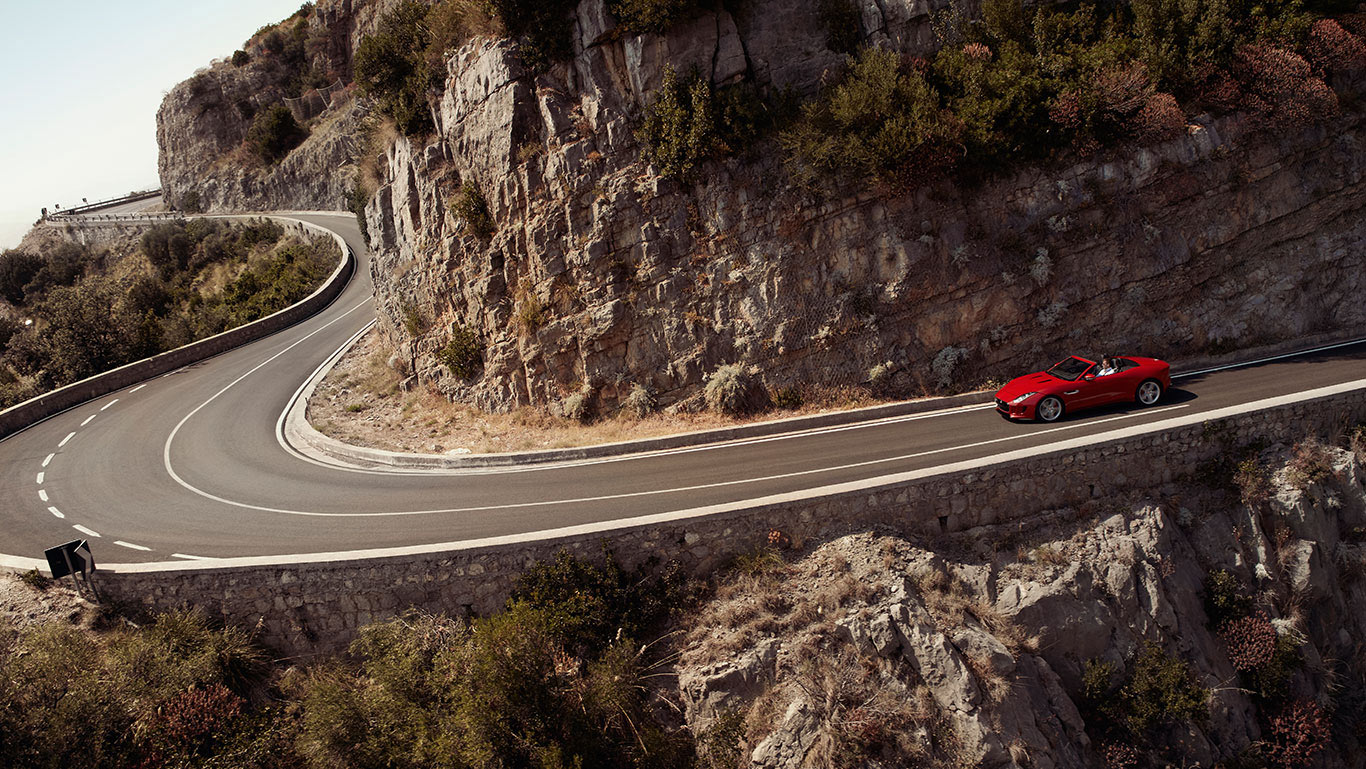 The first thing you notice about the speed is the noise. Yes, 460 lb-ft of torque at 2,500 rpm means that you essentially have a jaguar on a leash that just spotted a bunny. This is a voracious roadster with claws out that absolutely tears forward with predatory instinct. "Fast" isn't enough of a word to describe it—it's the single-minded focus of an animal incapable of distraction. The only thing it wants to do is produce mountains of torque and go forward. NOW.
But the noise of that animal is what dominates your senses. Every plunge of the throttle sets loose a torrent of throaty yowls and revs that is utterly intoxicating. It easily eliminates 90% of the cars we've ever driven in terms of sheer exhilaration. It's hard to overstate just how fun the sound alone made driving this car, but we really think it's the most crucial aspect of the experience. This isn't some digital recording amplified and piped in through the car's speakers—this is the actual fury generated by supercharged gasoline and fire in your cylinder base.
This car's sound, which was already at 11, is basically taken to 13 when you switch on the active sport exhaust, which varies valve openings based on throttle and speed conditions. Now the din is a frenzy, an almost feverish chorus that sounds with every command to speed up, and racks its claws against the bars when you slow, all spitting and crackling like a jungle dweller in confines.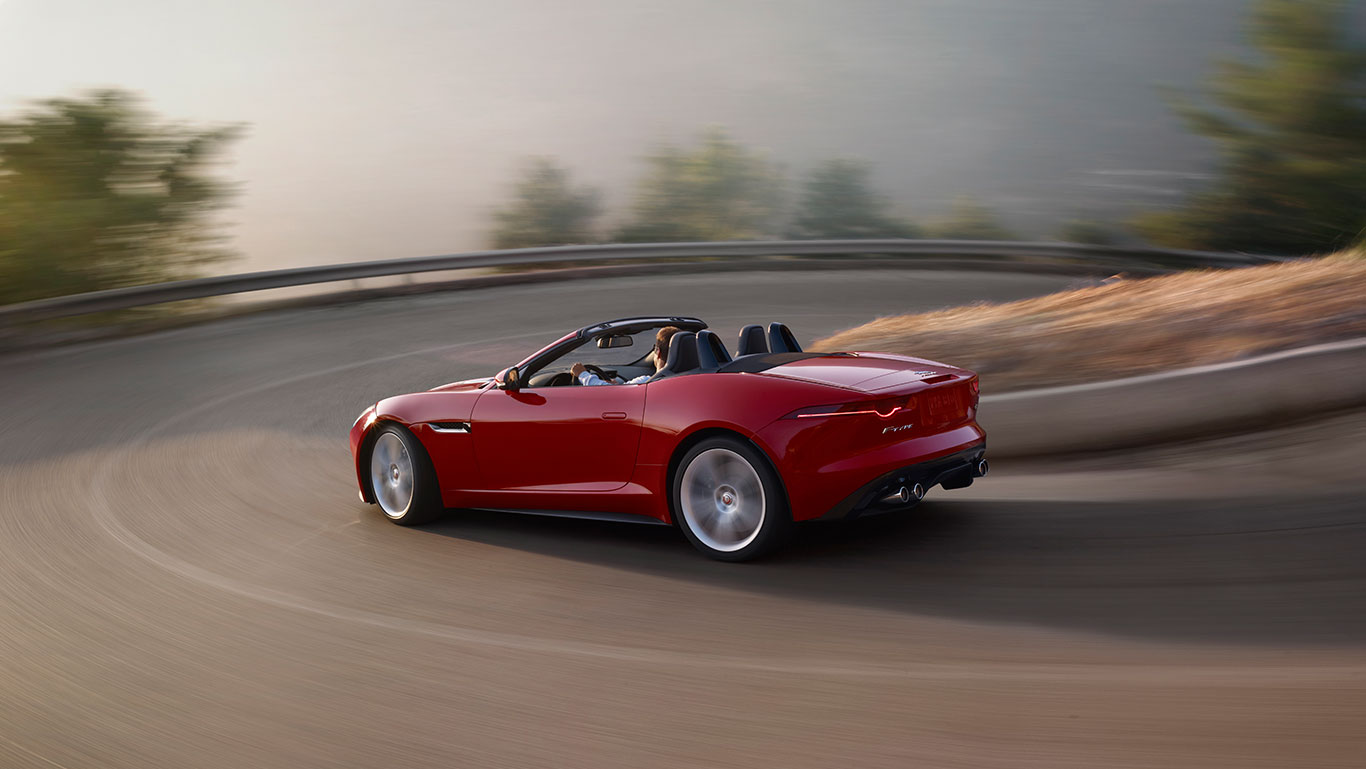 All of those throttle responses are graphed for you on the touchscreen, which can display all sorts of metrics in real-time about your most recent drive: G-forces, throttle usage, right-turn use of force, left-turn use of force, etc. This is a really cool feature that complements the adjustments you can make to the F-Type suspension, throttle, and economy, all with just a few touches.
The V-6 S version of the F-Type was also a lot of fun to drive. While the exhaust note was not the same as the V-8's, it was still aggressive enough in its own right, and rewarded our bursts of speed with an aggressive clamor. Many reviewers note that while the V-8 S is the most fun, the V-6 S is probably the best car to drive.
This is because the horsepower in the V-6 S is much more manageable for the driver, and the untamed nature of its rear axle—the V-8 S has a computer-assisted rear differential—means that you're free to play more with the winds and bends of the road. The V-6 version has a limited-slip differential, which means that you can let the rear end slide out from behind you, if you're feeling so inspired.
Plus, Dynamic Mode gives you the tightness of throttle and suspension that fully utilizes all 380 supercharged horses under the hood. It made us feel confident that V-6 S had plenty of thrills to offer, and as our patient guide Brad directed us through turns at a more, ah, "spirited" pace than we're accustomed to, suffice to say that any version of the F-Type is quite a handful.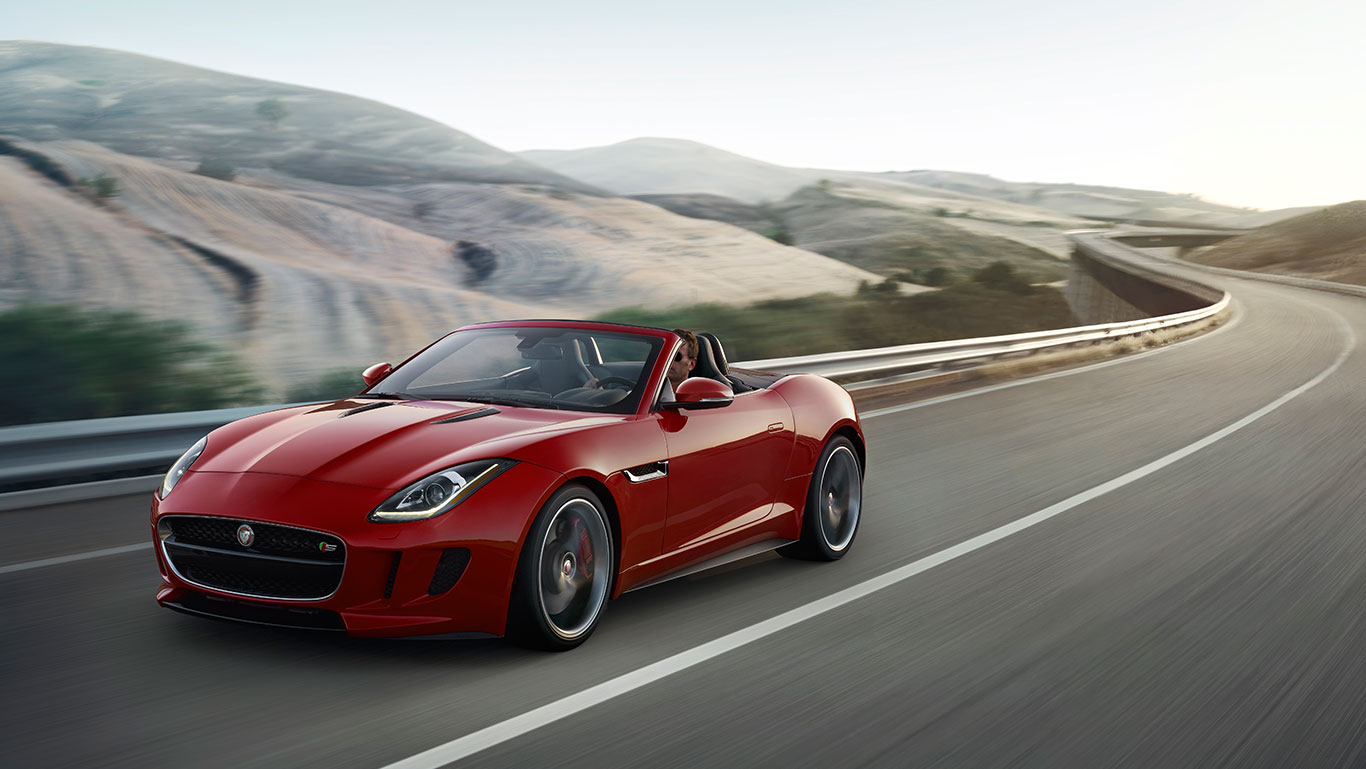 The interior of the V-6 S is identical to the V-8 S, according to Brad, and the engine is the only difference. There are a few cosmetic differences to the exterior—a more delicate scoop to the hood vents, for example—but the overall aesthetic of the Jaguar is a curious mixture of American muscle and English roadster. The performance vibe is quite apparent from the outside, but the interior is lavish without being plush.
The physical controls all have a premium feel to them, and are located with ergonomic precision. Dual-zone climate controls mean that passenger or driver can adjust their temperature just by rotating their controller, very similar to Nest thermostats. The aerofighter inspired cockpit means the driver can control every aspect of the car with a minimum of effort, often without taking his or her eyes off the road. A few clicks here and there, and you're set.
A rearview camera makes moving backwards easy, especially thanks to bright yellow lines that show exactly where your wheels will roll. These lines are projections, but they show up on the screen right on top of the asphalt—we actually thought they were painted lines in our parking spot. Turn your wheel in either direction, and the lines bend as well. Easy.
Overall, this is a model that writers are already designating as a genuine historical moment in Jaguar's timeline. With the Coupe versions on their way for this year—and already receiving excellent reviews—Jaguar has created a unique line that fuses style with dynamism. We can't wait to see what's next.
Test Drive: The 2014 F-Type Review
was last modified:
May 13th, 2015
by