Do yourself a favor. Download the Blippar app. The next time you see an ad for the Jaguar XF or XJ, scan it with your phone or Google Glass. If you have the Blippar app installed, you'll trigger an augmented reality experience, which is a more involved, multi-dimensional look into the XJ or XF than a traditional static ad.
When you see an ad on TV, the Internet or in a magazine, its main goal is to attract your interest. Jaguar's had the #GoodToBeBad campaign for at least a year now with British supervillains Ben Kingsley, Tom Hiddleston and Mark Strong. What the Blippar app does is take the ad a step further. Once your interest is attracted, Blippar lets you go deeper and learn more about the vehicle being advertised.
It's a great way to get the best of both worlds: a super creative and fun ad along with the more substantial product knowledge that you need to actually learn about a product.
In the Blippar experience, actor Nicholas Hoult—known for playing "Beast/Hank McCoy" in the X-Men movies—will guide you through his home. Is he really a villain? Not as far as we can tell. However, perhaps his character is in Jaguar's campaign; we will see.
The Blippar ads are said to be more compelling when viewed through Google Glass than a smartphone, mainly because Glass is a more immersive experience. Both device types use internal gyroscopes so that as you turn around, you should see different aspects of the vehicles. The app also includes video, photos, and exclusive content.
The ads that work with Blippar will run through March of 2015, so keep an eye out for them. Should you find yourself hankering for the ultimate reality experience—you know, actually driving one in person—stop by our showroom. Jaguars for sale in Raleigh are our specialty.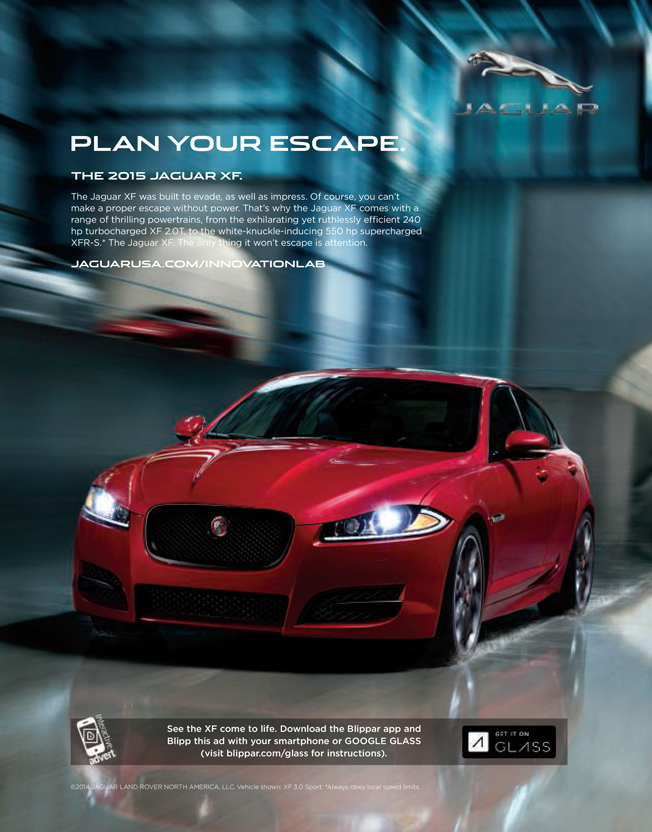 Have a Smartphone or Google Glass? Jaguar Has an Ad For That
was last modified:
March 11th, 2022
by