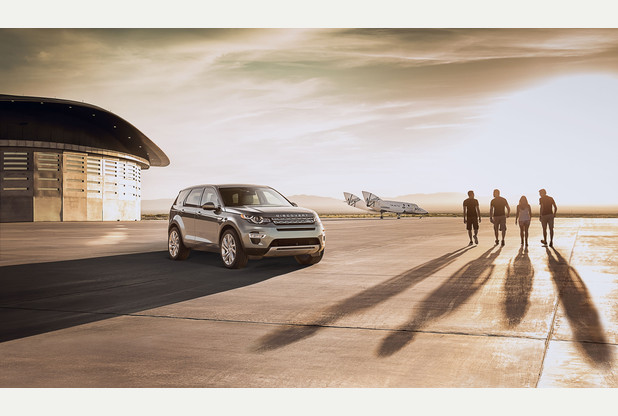 If your life is lacking in adventure, this post is for you. Land Rover is offering you a chance to go to space. Outer Space. Like, beyond the space we have here. There's the earth, then the atmosphere, then the space that surrounds the earth. That. You could actually go there, which is something that very few people in the history of people have done. The price of admission? Five hundred words and a 30-second video.
Here's what's going on: Land Rover is releasing a new model, the Discovery Sport. Those of you up on your Land Rover game will remember that the last time Land Rover unveiled a model, it was earlier this year right before the New York International Auto Show. But Land Rover didn't unveil that model—the Vision Concept—will all the other vendors at a booth. Oh no. Land Rover held a private event on the deck of an aircraft carrier off the coast of New York. There, the Vision Concept was revealed right next to an actual spaceship from Virgin Galactic, the space arm of billionaire Richard Branson's Virgin Media empire.
How does this tie in? Land Rover is holding a contest wherein you are asked to show what the spirit of adventure means to you. What do you think of when you contemplate standing on a patch of new soil, or hang-gliding for the first time, or trying three Mega Stuf Oreos all at once? If your submission impresses the judges enough, you will win a trip—possibly three of your friends also—to outer space, courtesy of Virgin Galactic's spaceship technology. How unreal is that?
Get your creative juices flowing, and think big about what your video will show, and what your words will say. You have until the end of October to submit an entry, which is 54 days according to the countdown. Start a dialogue here in the comments or on our Facebook and be sure to tell (or show) us what your idea is. You can do it!
As a side note, if you live in Raleigh and want to learn more about Jaguar Land Rover, you should come visit us.
Jaguar Land Rover Contests Offers Trip to Outer Space (Really!)
was last modified:
July 24th, 2015
by